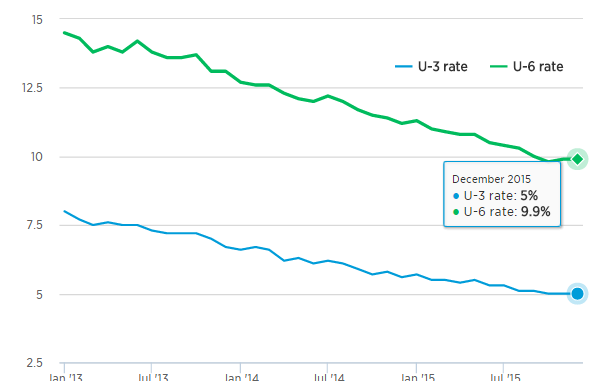 An interesting article over at CNBC discusses what the unemployment rate really means. Economists often look past the "main" unemployment number (also known as the "U-3 rate") to other indicators, like the U-6 rate, which many prefer because it captures those employees who work part time but would like to be working full time. What is the REAL unemployment rate?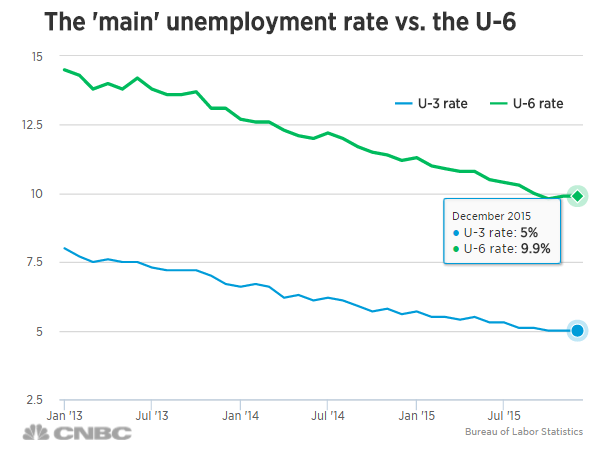 The U-6 rate is defined as total unemployed, plus all persons marginally attached to the labor force, plus total employed part time for economic reasons, as a percent of the civilian labor force, plus all marginally attached workers. In other words, the unemployed, the underemployed and the discouraged — a rate that remains to this day at stubbornly above pre-recession levels: 9.9 percent in December 2015.
The jobless rate has fallen from a high of 10% in October 2009, but labor participation for women ages 25 to 54, which had risen steadily from the 1960s through 2000, fell back to 73.7% this past summer from 75.5% in late 2007. And while the unemployment rate for whites declined to 4.4% in August, the rates for blacks was 9.5% and for Hispanics was 6.6.
The tail end of the Great Recession
The Labor Department reported this that the U.S. unemployment rate fell to 4.9 percent in January 2016, the lowest since February 2008. Despite that optimistic news, many financial experts believe the employment picture to be much less rosy. Economists point to the labor participation rate, which has shown little improvement over recent years. According to a recent Bureau of Labor Statistics estimate, there were 94,062,000 Americans not participating in the labor force in January 2016.