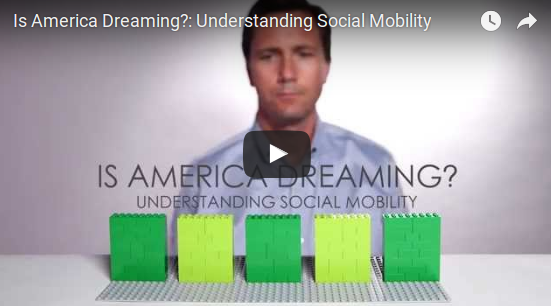 A few months ago I read an article in Esquire called Stuck. When I was searching for the link to the article (you need a subscription to Esquire to read it) I found the video above, which features the author of the article, Brookings Institution Fellow Richard Reeves. The central thrust of the article is this. Two necessary ingredients of Americanism — meritocracy and momentum — are sorely lacking in America today. Is America stuck?
Watch the video above and consider the following:
Americans born at the bottom of the ladder are in fact now less likely to rise to the top than those situated similarly in most other nations, and only half as likely as their Canadian counterparts.
Affluent Americans are to a greater extent solidifying their own status. And they are passing it on to their children more than the affluent in other nations. AND they are doing it more than they did in the past.
A "glass floor" prevents even the least talented offspring of the affluent from falling. There is a blockage in the circulation of the American elite as well, a system-wide hardening of the arteries. Class divisions are hardening. Upward mobility has a very weak pulse.
Race gaps are widening, too. The average black family has an income that is 59% of the average white families, down from 65% in 2000. Half of black kids born at the bottom rung of the income ladder will remain there as adults, all their lives.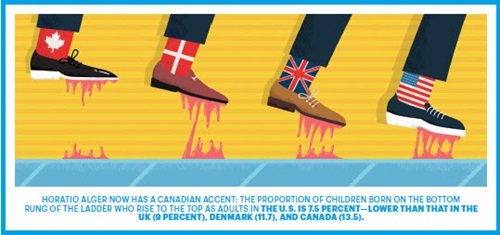 Is America Stuck?
As Reeves states in the video: "We could have a long argument about the gap between the rich and the poor. But I think we can all agree that we don't want to live in a society [in which] where you are born determines so strongly your chances in life."