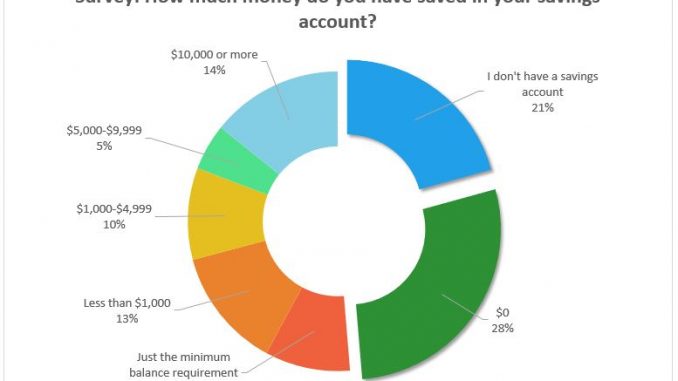 A recent GOBankingRates.com survey reveals some alarming news. Half of Americans have no money in their savings account or even no savings at all. In a Google Consumer Survey, 49 percent of Americans reported they have no cash reserve. 62 percent reported having less than $1,000 dollars in the bank. The survey also found that 21 percent of Americans have no savings account at all.
So most of the people in the country have no money for investment, savings, paying down debt, or emergencies. Americans are living right on the edge, living paycheck-to-paycheck, with no cash reserves.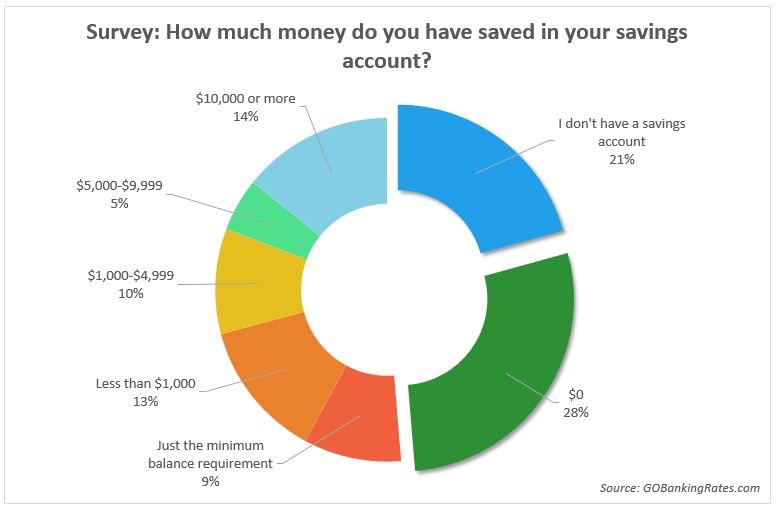 Most financial advisers recommend that people save a "cash cushion" of three to six months of essential expenses in a savings account to pay for unexpected costs. Unfortunately, it appears that most Americans aren't able to follow that advice whether or not they would like to. The survey largely validates an earlier survey by BankRate.com.
When faced with an emergency, Americans would raise the money by reducing spending (26%), borrow from family or friends (16%), or use credit cards (12%). A 2013 Federal Reserve report had found that among those who had savings prior to 2008, 57 percent of Americans had used up some or all of their savings in the Great Recession and its aftermath.
Americans Living Outside Their Means
One of the big reasons people aren't saving more is likely because they are living beyond their means. It doesn't matter if folks are making $30,000 per year or $300,000. People just don't seem to understand how to spend less than they make.
Plus, credit cards and other cashless payment options such as Apple Pay have made it even easier to spend, added Brandon Hayes, a CFP and vice president of oXYGen Financial.
"It's worrisome that such a large percentage of Americans have so little set aside in a savings account," said GOBankringRates personal finance journalist Cameron Huddleston. One trick she recommends is to automate your savings — have a certain amount automatically transferred from checking to savings each month. "If the money comes out before you can spend it, you likely won't even miss it."