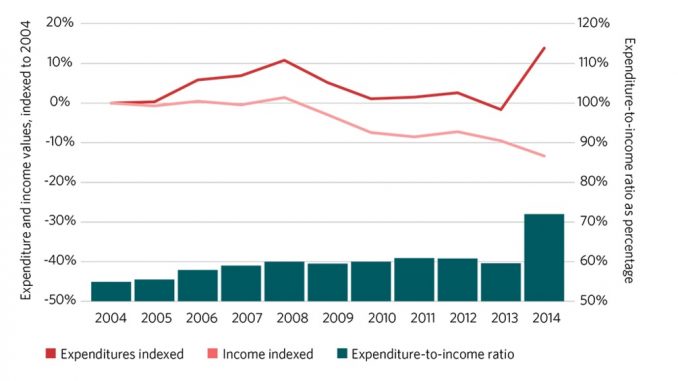 An insightful new Pew Charitable Trusts study on Household Expenditures and Income details some alarming data on how American household budgets are being stretched further and further.
The stock market, even with its ups and downs, is for the time being still clicking along. Since March 9, 2009, the Dow Jones Industrial Average has risen 159 percent, the S&P 500 is up 193 percent, and the Nasdaq Composite is up 266 percent. But the economic recovery is solely inuring to the benefit of the upper strata in the American class system.
The "recovery" from the Great Recession
Generally speaking, recovery from the Great Recession has been uniformly slow across all income tiers. After adjusting for inflation, all households have spent a lot more on total expenditures in 2014 ($36,800) than they did in 1996 ($29,400). That's an increase of more than 25 percent. While American household budget expenditures recovered from the downturn, however, household incomes have not.
In fact, median household income are contracting. By 2014, median income had fallen by 13 percent from 2004 levels. As a result, the expenses-to-income ratio has grown from 71 percent to 75 percent. Income growth has slowed to a crawl.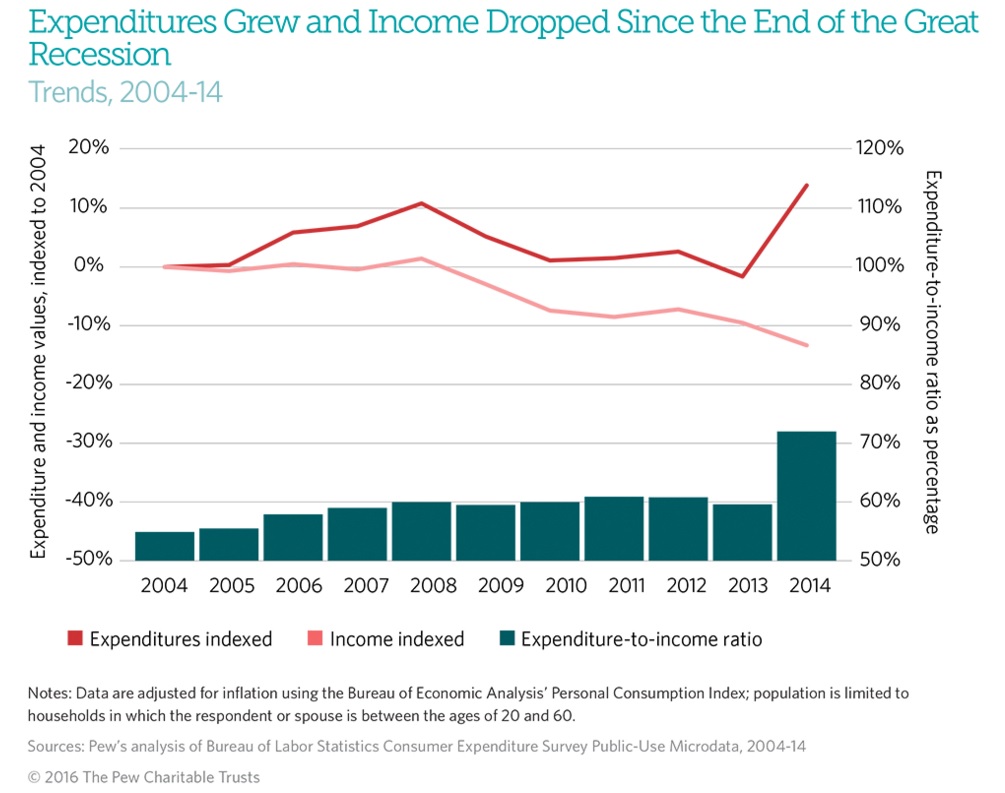 American Household Budgets Stretched Further and Further
Housing, food, transportation, and health care are consuming much larger shares of household income today than they did in 1996. The Pew study did find that absolute change in income and expenditures from 1996 to 2014 was similar. Yet American household budgets have less slack today because of increases in the core American household budget costs. Housing, food and transportation alone comprise about two-thirds of families' spending.
Most notably, housing costs have increased dramatically, affecting the lower income tiers disproportionately. Since the start of the foreclosure crisis in 2007, homeownership rates declined among households in the middle- and upper-income tiers, leading to rental vacancy rates at historical lows below 7 percent. While renters at each rung of the income ladder are spending a higher share of their income on housing, lower-income renters spend almost half of their pretax income on rent.
Two different Districts of Columbia
As recently reported in the Washington Post, it is common knowledge that there are two different D.C.s — one D.C. inhabited by younger newcomers with disposable incomes and who live in luxury condos, and another D.C. in which many longtime residents struggle to find decent jobs and affordable housing. Despite some recent easing in Northern Virginia home prices, the situation isn't much better either there or in Maryland. American household budgets are getting stretched further and further. And  the high costs of living in the Washington, D.C. region continues to put the squeeze middle-class families.