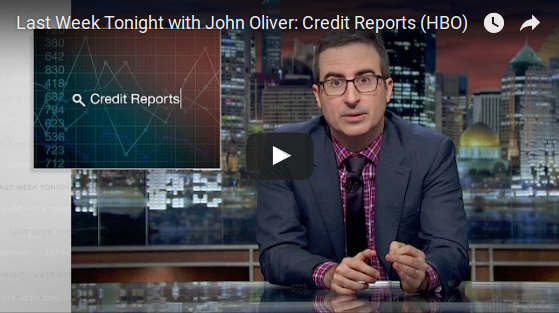 Have you seen John Oliver's take on the Big Three credit bureaus, TransUnion, Equifax, and Experian? The credit bureaus have too much power, and we must more regulate the credit reporting industry. This is especially true since all three bureaus aggressively market their products for uses beyond lending.
Lenders, creditors, and collection agencies report to the credit bureaus an individual consumer's debts, balances, and on-time or late monthly payments. The credit bureaus also collate other credit-related information, including bankruptcy, foreclosure, and lawsuit data. These data comprise the consumer's credit report and are used to calculate credit scores.
The power of information and error
Yet one in four credit reports contains at least one error, and one in twenty contains an error seriously damaging to the consumer's credit score. According to the 2015 Consumer Response Annual Report from the Consumer Financial Protection Bureau, the two main complaints against the credit bureaus are (1) incorrect information on credit reports and (2) the inadequacy or ineffectiveness of credit bureau's dispute resolution investigation. Considering how important credit is in today's economy, these are obviously serious problems that call for a solution.
Consumers who attempt to fix errors through the dispute process can quickly find themselves trapped in a Kafkaesque no man's land, where the only escape is through the court system. In the credit bureau dispute resolution system, you are guilty before you are proven innocent. One of the most difficult errors to fix is the "commingled" file, which is often the result of similar names, addresses, or social security numbers between two different people.
Fixing credit reporting errors isn't easy
Banks use credit reports to determine eligibility and terms for mortgages, personal loans, and credit cards. But landlords and employers also run credit checks. In fact, nearly half of employers delve into credit histories as part of background hiring investigations, and landlords routinely deny rentals based on credit history. Employers also examine credit reports when re-evaluating current employees.
As a Washington, D.C. bankruptcy attorney, Lee Legal must review clients' credit reports as part of a thorough financial analysis. I am consistently amazed by how many errors are contained in these reports. Errors include not only with misreported debts, but mistaken identity and public information data.
The credit bureaus have too much power
Over the past few years, there has been growing pressure on the credit bureaus to provide more accurate credit reports. In March 2015, the Big Three credit bureaus reached a settlement with New York regarding the dispute resolution process and the reporting of medical debts. But don't get too hopeful. It's important to remember that credit report is a product, and the consumer is not the customer. Credit reports provide merchants and businesses with information to help them make certain business decisions.