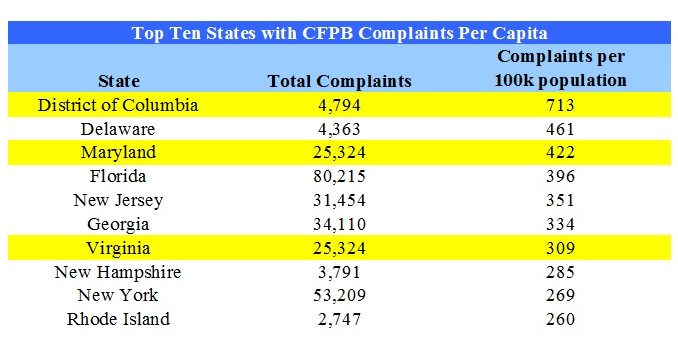 As of March 1, 2016, the Consumer Financial Protection Bureau (CFPB) handled approximately 834,400 complaints, including approximately 22,800 complaints. The Washington, DC area has three of the top seven jurisdictions for CFPB complaints per capita.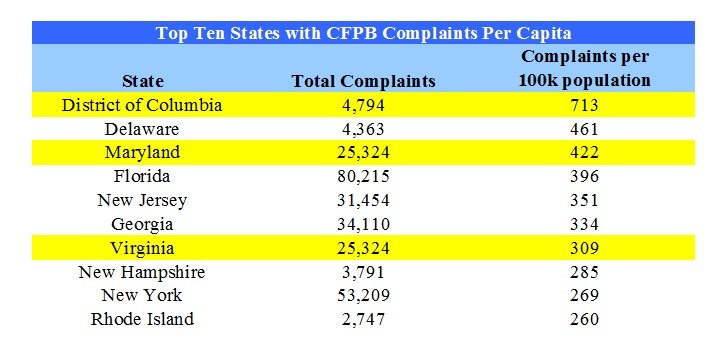 By a wide margin, Washington, D.C. leads the nation in CFPB complaints per capita with 713 complaints per 100,000 residents. The next closest state is Delaware with 461, followed by Maryland. Florida, New Jersey Georgia and Virginia round out the rest of the top seven.
The District doesn't much like debt collectors
As of March 1, 2016, debt collection complaints passed mortgages for the most consumer complaints. Debt collection, mortgage, and credit reporting complaints were the top three consumer financial products and services with the most complaints. Debt collection complaints included continued attempts to collect debts not still owed, including debts discharged in bankruptcy; improper communication tactics like frequent calling or threats of legal action; and inadequate verification of debt.
Consumer complaints and the company's response – if one is even provided – are published on the CFPB's Consumer Complaint Database. And this database is fully accessible by the public. One of the goals of the complaints database is to force financial companies to behave more ethically and transparently with consumers. The database also provides companies with a valuable opportunity to evaluate whether complaint trends suggest problems with certain products and services. Financial companies nonetheless hold a generally unfavorable, if hostile view toward the CFPB database.
File a CFPB complaint
Lee Legal has filed complaints with the CFPB on behalf of clients since 2012. We understand the issues confronting consumers when dealing with financial institutions. If you are a victim of debt collection, improper foreclosure or mortgage enforcement, or credit abuse, call us today for a free consultation.