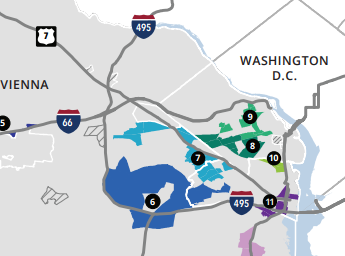 A new report, Getting Ahead: The Uneven Opportunity Landscape in Northern Virginia (November 28, 2017), shows why getting ahead in Northern Virginia is not so easy, especially if you live within the area's many "islands of disadvantage." The authors, from the Center on Society and Health and Northern Virginia Health Foundation, discuss several striking observations.
Islands of disadvantage
The report identifies 15 "islands of disadvantage," which it defines as adjacent census tracts where residents face significant economic challenges, from poor education and poverty to overcrowded housing and lack of health insurance. If you live in one of these areas, you are statistically less likely to get ahead.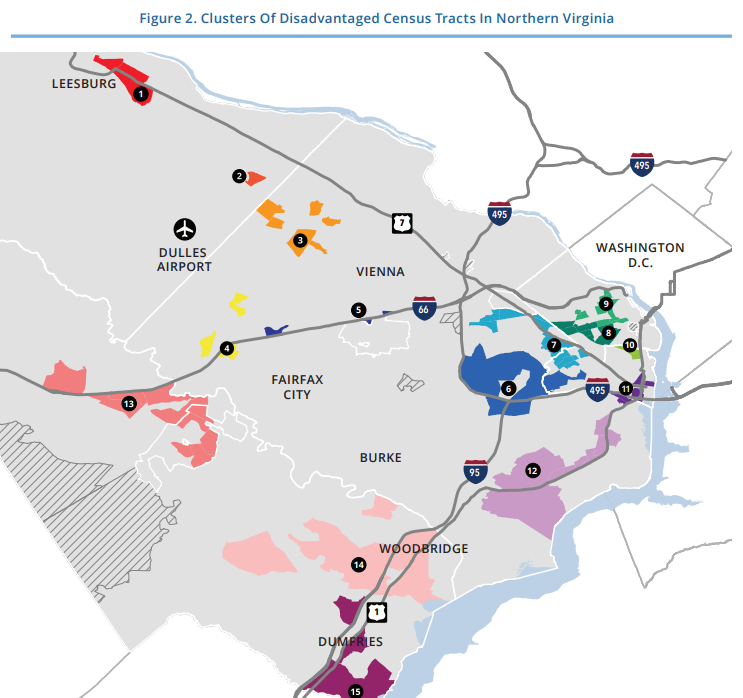 The neighborhoods identified in the study include Leesburg, Sterling Park, Herndon, Reston, Centreville, Chantilly, Springfield, Annandale, Landmark, Seven Corners, Bailey's Crossroads, Alexandria West, Columbia Pike, Arlandria, Old-Town, Huntington, and Dumfries. These areas contain clusters of disadvantaged tracts.
Pockets of poverty
These neighborhoods contain clusters of census tracts where residents face multiple economic challenges, pockets of poverty growing right here in Northern Virginia, where almost 140,000 people live in poverty. The area's median annual income is $122,000 per year, but 12 of the census tracts had median household incomes below $50,000.
The report also found 57 tracts where more than 10% of the population received public assistance. In 26 of the census tracts, a third or more of children lived in poverty.
These neighborhoods exist in stark contrast to the impression of Northern Virginia as a relatively affluent area with excellent opportunity to advance in skill and wages. The overall unemployment rate in Northern Virginia is just 4%. But unemployment in 18 tracts identified in the report above was above 10%.
Housing costs are high in Northern Virginia
In 60 census tracts, the report found, households spend more than 50% of their income on rent. That represents 257,000 people. Median rent exceeds $1,000 per month in all but 10 of the census tracts.
Conditions that exist at the county level—from quality of life to economic vitality—are not uniform across the region. Averages obscure variance: amid the affluence of Northern Virginia reside pockets of disadvantage, where poverty and substandard housing conditions exist blocks away from spacious lawns, country clubs, and golf courses.
Often there are striking differences in access to food and transportation between neighborhoods separated by just a few blocks.
It's not so easy getting ahead in Northern Virginia
Where you live could be bad for your health. The report highlights the correlation between life expectancy and college education in Northern Virginia. The number of years a newborn can expect to live differs by no fewer than 18 years depending on where you live in Northern Virginia.
The average poverty rate in Northern Virginia is 6%. That's relatively low when compared Maryland (10%) or the national average (13%). Yet if you live in one of the DMV's islands of disadvantage, you are less likely to get ahead for multiple reasons.