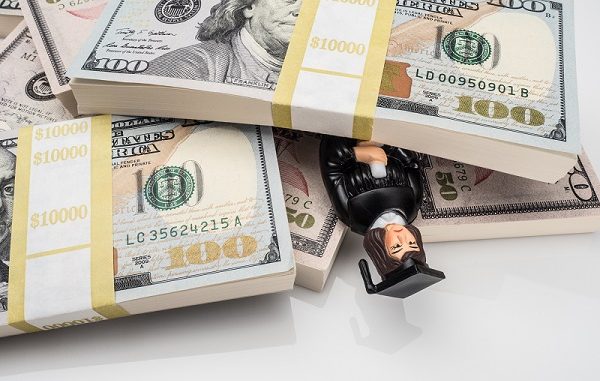 About $84 billion of the approximately $1.37 trillion in student loan debt that Americans owe is in default. Increasingly, student loan borrowers are finding it too difficult to repay and are simply defaulting.
From loan inception to repayment, here are 6 student loan debts mistakes to avoid.

Taking out too much
Getting an education is smart. But not looking for alternative ways to finance it is not so smart. Be sure to fill out the FAFSA, or the Free Application for Federal Student Aid. Note that students who file earlier, on average, get more free money for tuition. State and local scholarships may also be available to you. Scholarships.com is a great place to start your search.
Ignoring interest
Lenders are willing to finance your education because of the interest you promise to pay. On most student loans, interest accumulates while you are still in school. Paying your student loan debt as soon as possible allows you to avoid compound interest. Interest-driven repayment plans are usually available even during the 6-month post-graduation deferment period.
Selecting the wrong repayment plan
Income-based repayment plans are very popular, but there are other options, all of which cap your monthly payments at 10-20 percent. Call your student loan servicer and request income-driven repayment. Most federal loans allow for these programs, and many private lenders employ comparable policies.
Not consolidating your student loan debt
Whether you have consolidated your loans often makes a big difference in whether you qualify for income-based repayment. Having 6 or 10 or 30 different entries on your credit report, instead of just one or two, also makes a big difference toward your overall credit score. Student loan consolidation simplifies your payment and may even lower your interest payment amounts.
Missing payments or paying late
Late payments or completely missed payments will badly damage your credit score. Eventually, default will result in either a lawsuit or garnishment. Federally-backed student lenders can also seize your tax refund. Work out a repayment plan with your lender. Don't skip payments or default altogether.
Paying without paying attention
Student loan lenders are generally big financial institutions, and your payments are applied accurately and their accounting is correct. But that is not always true. You have to keep an eye on them to determine whether your payments are being applied correctly. Paying attention to your student loan debt payments will also keep your eye on the prize: paying them off completely.