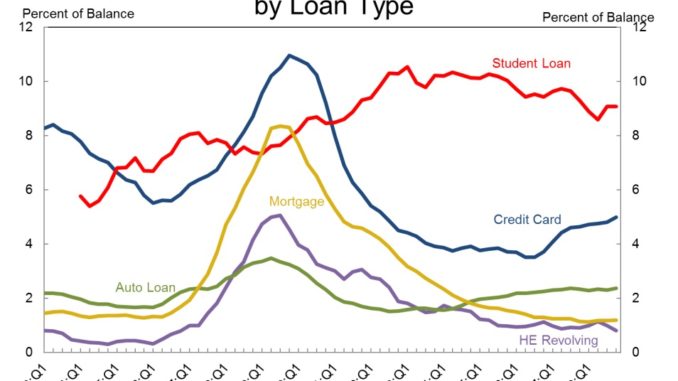 When the Great Recession officially ended in June 2009, the total outstanding amount of student loan debt in the U.S. was $675 billion. Today, total U.S. student loan debt has more than doubled to $1.465 trillion. If allowed to do so, not every student will declare bankruptcy to discharge student loans. But for those who struggle for years without making a dent in their student loan debt, the Chapter 7 bankruptcy discharge of student loans would bring much needed relief. Moreover, the bankruptcy discharge of student loans would provide a big boost to the U.S. economy.
Student loan delinquency rates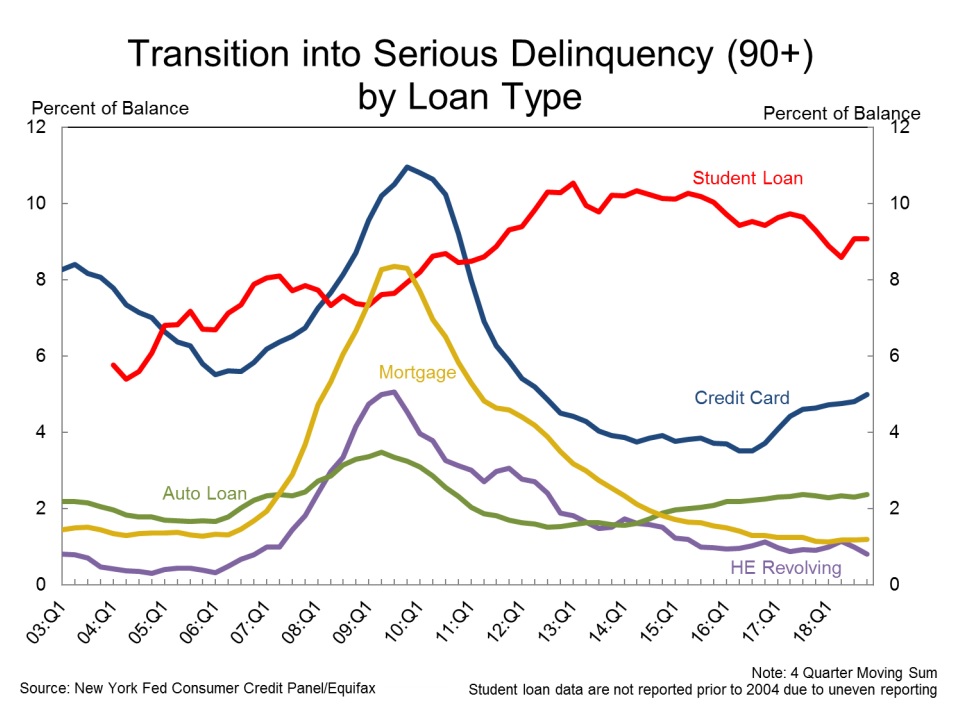 This chart, produced by the Federal Reserve Bank of New York's Center for Microeconomic Data as part of their Q4 2018 report on household debt and credit, spells big trouble for America's economy. The chart shows the net increase in the aggregate of seriously delinquent balances for all credit types, expressed as a percent of the previous quarter's balance that was not seriously delinquent.
As you can see, student loan delinquency rates far eclipse those for other credit categories. No less than 11.4 percent of student loans are either in default or 90+ days delinquent. And repayment cycle delinquency rates are probably about two times higher if you factor in student loans currently in deferment, grace periods, or forbearance.
The damage being done to our economy by student loans
Consumer spending drives the U.S. economy. Money spent toward repayment of student loans is money not being contributed to the economy overall. Student loans also suppress new business formation. And student loan debt prevents homeownership because student borrowers must delay homeownership while attempting to repay these steep loans. Finally, those with student loan delinquencies (and thus poor credit) could rejoin the economy with more productive types of credit.
The solution: Bankruptcy discharge of student loans
Bringing back the bankruptcy discharge of student loans would change all that and provide a big boost to the U.S. economy. Even Federal Reserve Chairman Jerome Powell believes that we should bring back the bankruptcy discharge for student loans. In fact, student loans are the only type of risk-free lending in the United States. Legislation amending the Bankruptcy Code to provide for the discharge of student loans could correct that imbalance.