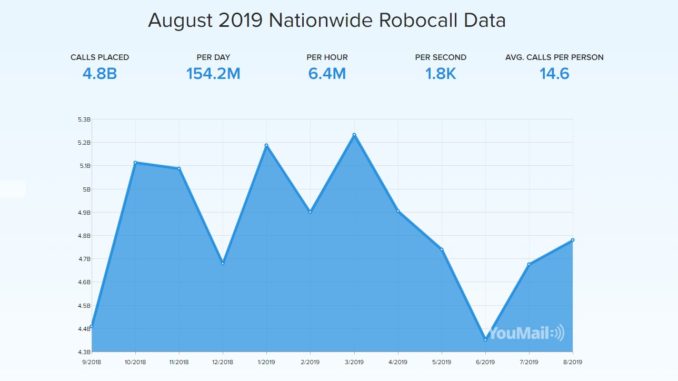 Illegal scam robocalls comprised roughly a quarter of the 26 billion robocalls placed to U.S. mobile numbers in 2018. Unwanted solicitations, get-rich-quick schemes, health insurance rackets, car warranty extension offers, timeshare spam, technical support shakedowns, and IRS and Social Security scams. These often sophisticated robo-hustlers prey on the vulnerable and annoy the rest of us. The robocalls must stop.
In July 2019, Maryland residents received 105.7 million robocalls, an average of 12.7 for every person in the state. Virginia residents received 134.6 million robocalls, an average of 18 for every person in the Commonwealth. And Washington, D.C. residents received 29.2 million robocalls, for a whopping 51.6 robocalls to every person in the District of Columbia. The robocalls must stop.
Not all robocalls are bad. Automated reminders for medical appointments and credit card potential fraud alerts add value for the consumer. Unfortunately, scams and solicitations have run rampant. A recent FCC study found that 44.6 percent of all calls made to mobile phones in 2019 will be scams. That's outrageous. The robocalls must stop.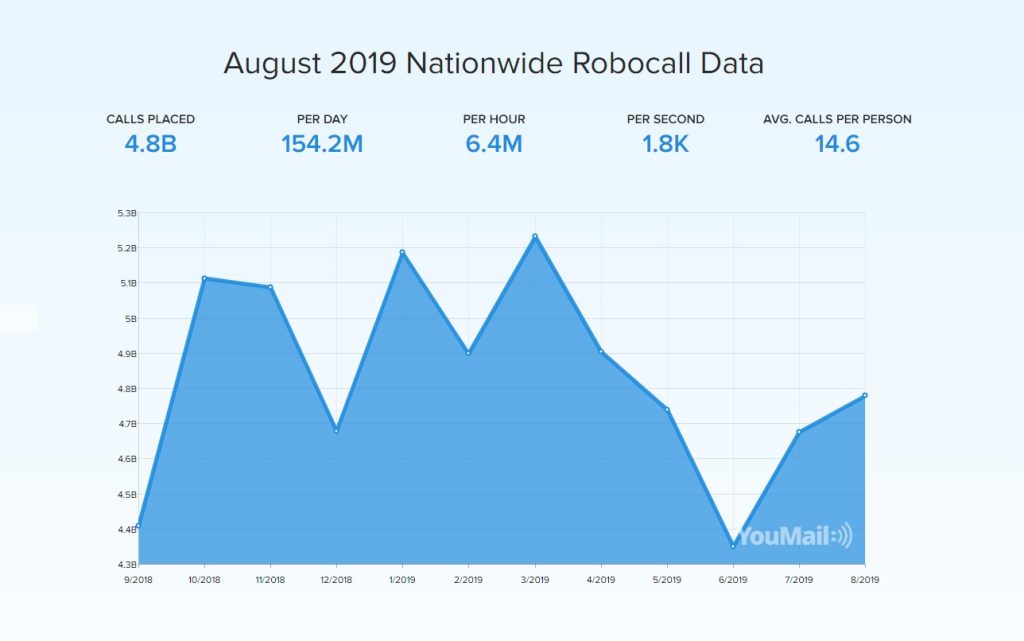 Who's making these robocalls?
According to the FCC, there's an entire dirty robocaller industry. Dozens of companies net millions of dollars in illicit gains by placing hundreds of millions of robocalls.
Robocalls proliferate through programs that
resemble multilevel marketing schemes,
where business founders push
robocall packages on "members"
to spur quick growth.

Robocalls are not only annoying,
CNBC (July 5, 2019)
My "Canadian Pharmacy" saga
Once a month I get a call from "Canadian Pharmacy." They want me to buy Viagra or Cialis from them. The first few times they called, I asked them to remove me from their list. They've been calling me for over a decade now.
Of course, for years I have simply hung up on them. But I did try, a few times, to scare them. I told them that it is illegal for them to send me medications without a prescription. That did not faze them at all. I'll hear from them again next month.
Here's their trick. I am quite sure that "Canadian Pharmacy" is neither a pharmacy nor in Canada and that the callers are based in Mumbai or Delhi. But they always call me from a number in my local (202) area code. It's a different number every month, so I can't just block them. Robocallers work the same way.
Malicious caller ID spoofing masks international robocall spam. American regulatory enforcement against illegal actions by international companies can often prove ineffective. But we can eliminate number masking at the carrier level, allowing individuals to decide whether to answer an international call.
The robocalls must stop
Recently, some big providers (Verizon, AT&T, T-Mobile, and Sprint) signed on to a voluntary pact titled Anti-Robocall Principles. As noted in the agreement, however, "failure to adhere to these principles is not in itself a basis for liability." Still, it's a step in the right direction, and attorneys general of all 50 states and D.C. have signed off, too. The eight principles include offering free call blocking and labeling, investigating suspicious calls and patterns, and implementing STIR/SHAKEN technology. STIR/SHAKEN uses digital certificates, based on common public key cryptography techniques, to ensure the calling number of a telephone call is secure.
I propose introducing a new *86 feature. Currently, *86 turns off the "call connection busy" feature, but no one uses that. Instead, whenever an unwanted robocall comes through, the recipient can initiate a traceback using *86 that would automatically report the caller to the carrier.