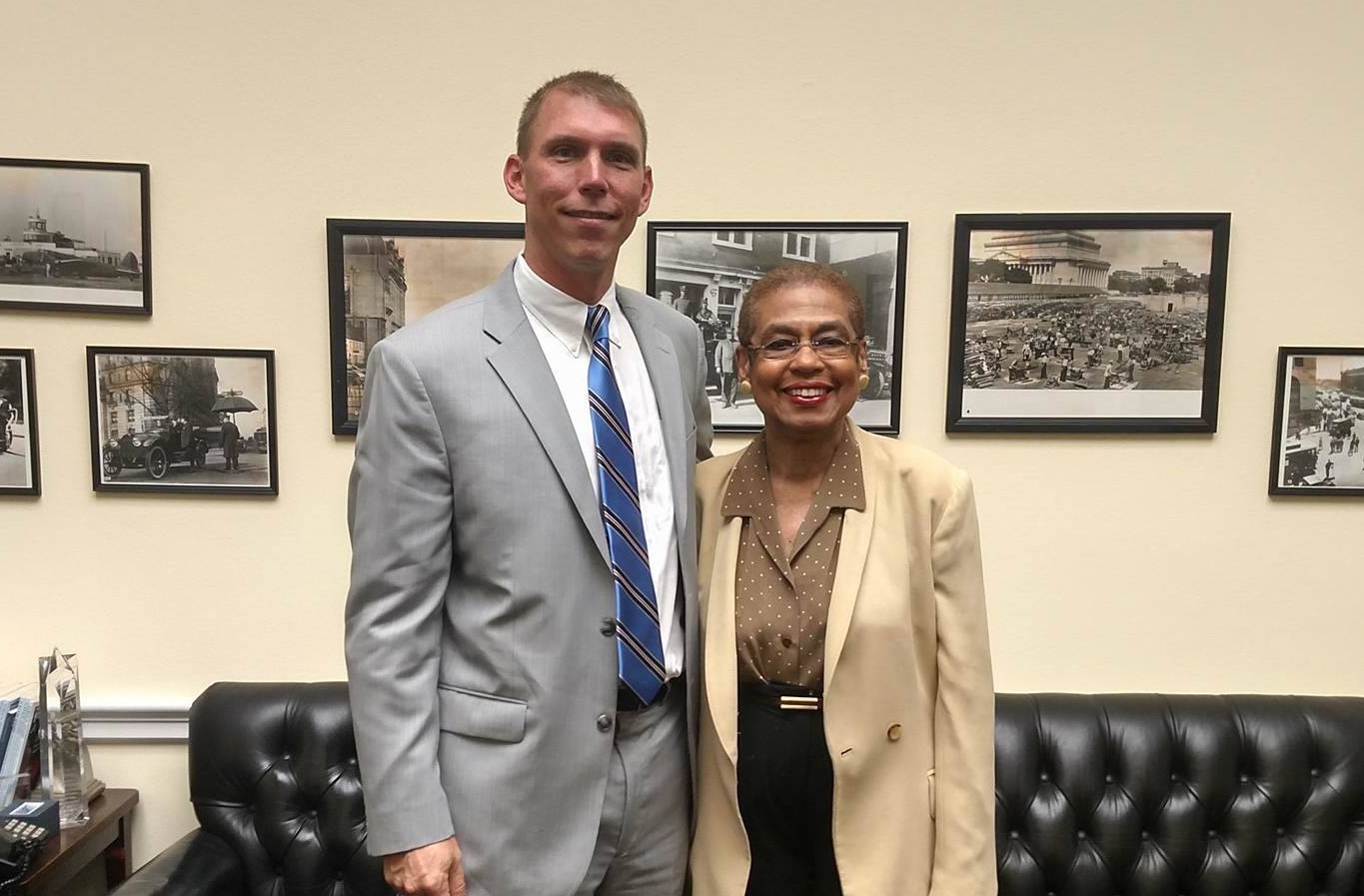 Brian V. Lee, the District of Columbia State Chair for the National Association of Consumer Bankruptcy Attorneys (NACBA) and principal attorney for Lee Legal, met with District of Columbia Congresswoman Eleanor Holmes Norton to discuss the student loan discharge in Chapter 7 bankruptcy. The meeting was part of "Hill Day at Home," which allows NACBA representatives the opportunity to educate federal lawmakers on bankruptcy policy.
Today, unlike most kinds of debt, student loans of all types currently are non-dischargeable in bankruptcy, except on a judicial finding of "undue hardship," a nearly impossible legal standard to meet. Rep. Norton emphasized her strong support for the student loan discharge for private loans, but expressed concern that discharge of public student loans could shift the burden of paying individual loans to taxpayers. Mr. Lee pointed out that many financially distressed student loan borrowers aren't paying on their loans now and have no realistic chance of being in a position to pay them in the future. Moreover, most distressed borrowers will not benefit from the non-bankruptcy options of refinancing or repayment plans.
There is growing bipartisan support for restoring the bankruptcy discharge for student loans. While dozens of bills addressing the student loan issue have been introduced in both houses of Congress, NACBA supports restoring bankruptcy protection for both private and government student loans. Rep. Holmes Norton is a cosponsor of one of the bills, H.R. 1674, the Student Loan Bankruptcy Fairness Act, introduced by Rep. Steve Cohen (D-TN). NACBA also supports H.R. 449, the Discharge Student Loans in Bankruptcy Act of 2015, introduced by Rep. John Delaney (D-MD) and which would also restore the Chapter 7 bankruptcy discharge for both private and government student loans.
Prior to 1976, student loans were treated the same as any other unsecured consumer loan and were dischargeable in bankruptcy. Since 1976, bankruptcy protection for student borrowers has been steadily eroded. There has never been any evidence of significant abuse of bankruptcy by student loan borrowers, and a study conducted in 1977 by GAO analyzed the bankruptcy filings of borrowers whose student loans were discharged found that the student loans themselves were generally not the cause. Most consumer debtors file for bankruptcy because of unexpected emergencies or traumas in their lives.
The staggering $1.3 trillion in student loan debt in the U.S. is cause for major concern, not only because of its macroeconomic impact on consumer spending on homes and automobiles, investments in small business start-ups and in retirement savings, but also in terms of its dire consequences for those borrowers in severe economic distress who have no chance of ever repaying the loans. There exists no logical or legal reason to allow private student loans to be treated differently from other types of unsecured credit.
Congresswoman Eleanor Holmes Norton, now in her thirteenth term as the Congresswoman for the District of Columbia, is the Ranking Member of the House Subcommittee on Highways and Transit and serves on the Committee on Oversight and Government Reform. The Congresswoman, who taught law full time before being elected, is a tenured professor of law at Georgetown University.
Suggested Resources: